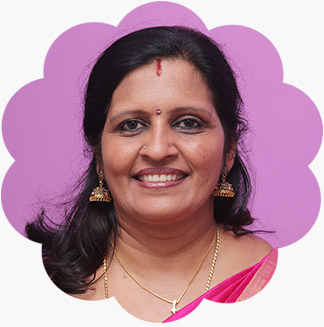 Shanthi Ganesh
Professional Jolly Phonics trainer, U.K
Shanthi has 15 years of rich training experience in kindergarten and is a connoisseur in activity based teaching. She is very much impressed by the effective Jolly Phonics methodology which is an alternate to rote learning where the children struggle to memorise the language / lessons.
A B.A Graduate and certified Kindergarten trainer, Shanthi started her career as a KG Teacher and raised to the position of Academic Co-ordinator in a reputed school in Chennai within a short span of time. She has conducted various seminars in training teachers on activity based teaching methodology in various reputed schools in Tamilnadu for more than 10 years.
The love of children and the faith of parents urged her to contribute to the field of education by quitting her rewarding job and taking up Jolly Training, which led to the genesis of Phonic Champs.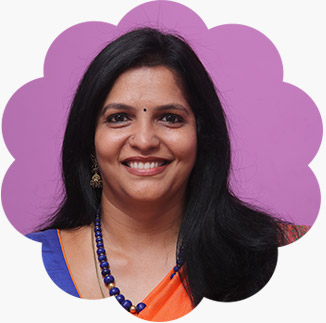 Vijayalakshmi Seshan
Professional Jolly Phonics trainer, U.K
Vijayalakshmi Seshan, a counselling Psychologist, has 10 years of experience in the field of Education. Her empathy and willingness to help children and parents to overcome learning problems has brought smiles in many faces.
A Student counsellor by profession, she saw many children with difficulties in learning English language which urged her to help children by introducing Jolly Phonics which makes learning easier.
The performance anxiety in students and parents is a psychological setback in the process of learning. Phonic Champs gives an excellent solution to this problem. With a Masters in Pyschology and certified KG trainer, started her career in a leading school in Chennai. She has done various training programmes in Personality Enrichment and in effective teaching methodology.